Slumber parties are a childhood tradition having long been an intrinsic part of being a kid. However, the nights of giggling and games for the kids can give way to sleepless nights for parents. Maybe it's your turn to host one or a birthday is coming up and you are dreading the chaos of having a dozen tweens in your home. So, how do you host a slumber party and keep your sanity?  Here is a list of helpful do's and don'ts for slumber party success. With smart guidelines and sufficient planning, the night can be fun for the kids and easy on you.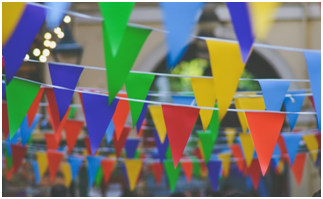 Guideline #1: Never organize a slumber party for 7-year-olds
Despite how much your kid may want one, it's highly advised to wait until your child is at least 9-years-old before hosting a slumber party. Younger children are not as able to communicate what they need and are more prone to feeling homesick once the clock strikes nine. Organize a slumber party only when you know your child, as well as the other children, are ready for it.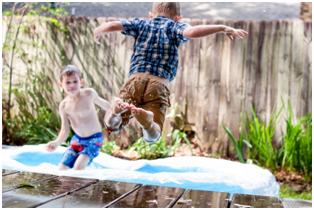 Guideline #2: Make sure to talk the parents
Slumber parties may be fun for kids, but they can be worrisome for parents. If you are planning a slumber party for your child, make sure to talk to the parents of all the kids you plan to invite. In order to win the trust of other parents, share with them the whole night's plan. Make sure you have their numbers, and they have yours, in case of an emergency.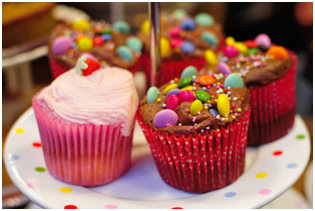 Guideline #3: Limit the guest list
Maybe you think you can handle a dozen teenage boys in your home for 15 hours, think again. Instead, it's smarter to underestimate your child-handling capacity. If you struggle to reduce the list size consider hosting a "half" slumber party. Kids come dressed in pjs, play games, eat junk food, stay up late and get picked up when they get sleepy. Effectively, you are giving their parents a date night and they can pick them up on their way home.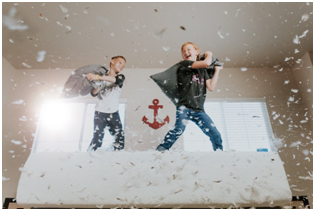 Guideline #4: Phones should not be allowed
Many parents give phones to their children as a safety measure, however, unrestricted and unsupervised use of cellphones by children can lead to havoc. As the host, ask all parents not to send their kids with a cellphone. Instead, share your number with the parents and ask them to reach out to you in case of an emergency.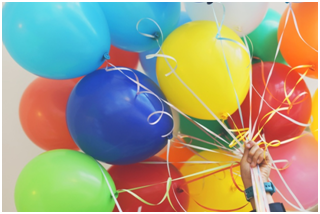 Guideline #5:Choose foods kids love
When talking to their parents ask them for a list of dietary restrictions, allergies, and sensitivities. Design the menu based on this list. Have an abundance of snacks on hand and avoid serving foods that can leave stains. Besides chips, popcorn, candy and ice cream, make sure to also have cut up fruit or berries and baby carrots and cherry tomatoes with some dressing on the side or a dip. And pancakes in the morning will make you a big hit!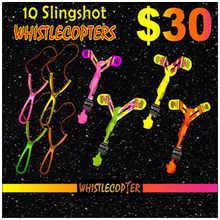 Guideline #6: Let your child suggest the activities
Remember this party is for the kids to have fun so include them in the preparations. Let them come up with suggestions regarding the activities, food, drinks, and movies. If you find some of the choices inappropriate, you can always tell them so. However, remember to balance their desires with yours. Activities like a backyard scavenger hunt, playing with a whistlecopter or shooting hoops are all a good start to the evening. However, make sure there is always someone supervising the kids. As the night advances, they can switch to board games, video games or a movie and may need less supervision.
Slumber parties can be a great time when thoughtfully planned and prepared. These do's and don'ts are helpful guidelines for the night to be fun for the kids and less stressful for you.
Here are two toys from Whistlecopter that are big hits at slumber partiesor any party! Easy to pack, have these in your bag to the park, to grandma's or to pull out at rest stops on long road trips.
Ultimate 10 Maxi sling-shot 
Ten Maxi sling shot in assorted colors with Whistlecopters!
Easy to Launch with the MAXI SLING SHOT and 8 inch rubber band!
Whistlecopterhave differently designed wings for each copter that create different looks when flying in the sky!
Highest flights!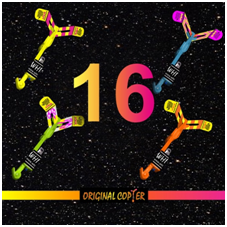 16 Originalcopters for $19 in different colors in three packs for unlimited fun.
Each Original copter has our NEW SUPER GLOW WINGS !!
Each Led Copter is individually packaged and contains our exclusive VIPER LAUNCHER.
Click here to learn more about all our superb deals for your flying fancy.
We would like to thank Erika Long for this blog.